Primary Campus Renewal
Southside renovation – NOW OPEN
We have a commitment to provide the best learning environment possible.
The Southside building has been renovated to make the learning environment more dynamic for Kindergarten, Year 1 and Year 2 students. It was ready for new students in Term 1 2016.
The Snow Centre had created capacity for the Primary Music classrooms to move from the Southside Building to the International Centre – a more logical home for our music facilities – opening up space in the Southside Building.
The new learning spaces allow more Junior School students to flow through to the Senior School where we have availability.
A central hub for the Primary School spearheads the redevelopment
John Lingard Hall Redevelopment
The proposed expansion of the John Lingard Hall will increase seating capacity, making the Hall more a suitable venue for School events. A new atrium will provide a social meeting space and much-needed entry point to the Primary School.
The forecourt will be opened up to create a new quadrangle at the heart of the Primary campus: a space for social interaction, play and learning.
This exciting development of our Primary campus will require community support, through the CGS Foundation.
Learning through exploration
Centre for Discovery Learning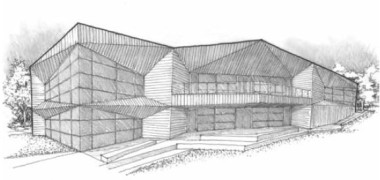 A new Centre for Discovery Learning will complete our transformation of the Primary Campus, providing new facilities for older primary students to engage in learning through discovery, enquiry and play.
The Primary School's equivalent of the Snow Centre, the Centre for Discovery Learning will be defined by light-filled learning spaces that make the best use of the Centre's location, aspect and natural environment. Classes will include the new International Baccalaureate Primary Years Programme.
The Centre will be a dynamic element of the Junior School and facilitates experiential learning providing opportunities for students to problem solve and be part of team building and leadership that will have the added benefit of helping students extend their interpersonal skills and relationships.
This is a major project for the CGS Foundation fundraising efforts but, this visionary concept, when realised, will elevate the Junior School's reputation of providing learning that is diverse and student-focused.
The Centre will also open up play spaces in the middle of the Primary School, allowing for a better movement of students through the campus.