Scholarships
Choose a brighter future.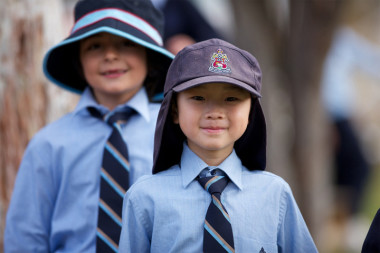 At Canberra Grammar School, we believe in encouraging excellence and in ensuring the quality education on offer here is available to all. Through our scholarships programs we provide opportunities for those who excel, regardless of their background. As a School, we also benefit greatly from having a diversity of talents and experiences represented within our student cohort.
Scholarships can change lives, either by supporting talented students as they strive for distinction in their field or by providing financial aid to those who would otherwise be unable to access the opportunities here at CGS.
Your gift to the CGS Scholarship Fund won't just benefit a student during his time at the School, it will have a dramatic and enduring impact throughout that student's future.
All donations over $2 to the CGS Foundation are tax-deductible. Support CGS.
Your contribution truly does make a difference to students' lives. 
Paul McKeown Academic Scholarship
Paul McKeown was an inspirational headmaster, an honoured and respected Australian educator who, for 27 years poured his considerable energy, talents and unflinching loyalty into Canberra Grammar School, its community and the developing city.
He was the School's longest serving headmaster and he completely transformed it. When he arrived at the School in 1959 there were 300 students, when he left there were 1350. He built up the School until it enjoyed an enviable Australia-wide reputation for academic excellence. He lived and breathed education in all its forms from preschool through to matriculation and beyond. The humanities, the sciences, the performing arts, sport and the Australian bush all played important and complimentary parts in his passion for teaching. It was his ability to unlock an individual's capabilities and to encourage lives that were fulfilling on a personal level, while contributing to the wider community that made him such an outstanding educator.
In recognition of his positive impact on the School, the Paul McKeown Academic Scholarship was established. The Scholarship provides for up to two scholarships worth up to 20% of tuition fees over two years open to new or current students seeking to enter Year 11 and at least one of which is awarded to an external applicant.
This is an unfunded scholarship and therefore funds have to be found in the School's budget.
You have the opportunity to honour Paul McKeown by helping to fund the Scholarship – any donation via the CGS Foundation over $2 is tax deductible.
Simply follow this link https://cgsfoundation.org.au/support/ and show your support for such a great educator.
A full list of scholarships on offer at CGS view the drop-down box here