Special Initiatives Campaign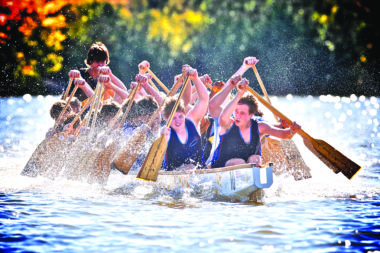 Supporting World-Class Experiences.
The CGS Foundation provides a means of giving in varied ways that enhance the quality and experience of curricular and co-curricular life at the School.
The CGS Foundation welcomes the endowment of awards and prizes for academic and co-curricular achievement. It honours the donation of sports equipment and professional expertise, and it recognises support for major School events, including overseas tours, performances and, of course, the CGS Fete. Along with the CGS Parents & Friends Association, the CGS Foundation is also proud
to support a range of targeted annual fundraising initiatives.
While not all donations in this category are tax-deductible, all do make a real difference to the daily lives of our students and our School community.
1. Academic Awards
With a strong culture of academic excellence and an ever-dynamic curriculum, the School thrives on the encouragement and recognition of effort and achievement. We warmly welcome expressions of interest in the endowment of new awards that honour the intellectual endeavours of our students and staff.
2. Co-curricular Awards
With the School's transition to full co-education comes a need for many new co-curricular awards that celebrate the sporting and other co-curricular achievements of our girls and boys. Throughout the history of the School, the donation of awards and trophies has been a way of celebrating and remembering the enjoyment that students have had in their most passionate pursuits. We warmly welcome expressions of interest in the endowment of new awards that continue the School's traditions of excellence in all fields.
3. Co-curricular Equipment
Providing the School's extraordinary range of opportunities in sports and in the creative and performing arts can be expensive. Often in the past this has been offset by the generosity of families who have, for example, given significant gifts like new rowing boats, new dragon boating equipment or musical instruments in recognition of their children's opportunities at the School. We warmly welcome such gifts that augment our extensive co-curricular programme.
4. Gifts in kind
The School is fortunate to be supported by a talented and highly-qualified community. Many parents and former students have given generously of their expertise and professional resources over the years and we welcome conversation about how we can work together to enhance the potential of our School.
5. Sponsorship
While the Foundation exists primarily to receive donations, it also works to facilitate sponsorship of School activities and special events, including overseas sporting and educational tours, major performances and festivals. We warmly welcome expressions of interest in sponsorship that support the range of opportunities that we can offer to our students.
For information on specific opportunities available or to endow an award, please contact
the CGS Foundation Office on +61 (2) 6260 9655 or at foundation@cgs.act.edu.au
Give to the CGS Foundation and
help support world-class experiences –