Transforming their future
It is my pleasure to introduce the CGS Foundation's Campaign: "Transforming the School; Transforming Lives."
Transformation is the purpose of philanthropy and the role of the CGS Foundation: to empower our School and all who thrive through its opportunities to change our world for the better.
The CGS Foundation has achieved much so far in transforming our campus and the experiences of our students.  We can be proud and immensely grateful.  Our challenge now is to set our sights still higher and together achieve something extraordinary for the generations to come:
to grow our Indigenous Scholarships Programme so that we may champion our role and responsibility as a school for the nation's capital to educate the generations who will shape Australia's future;
to expand our access and equity provisions to ensure that students of talent can join our School and flourish regardless of means, background or hardships; and
to ensure that as the challenges of our century unfold, we may continue to develop our magnificent learning environment sustainably and to the highest of educational standards.
You can read more about these exciting programs here.
I warmly invite you to join me in supporting these aspirations; in transforming lives and the future of our School.
With my sincere thanks,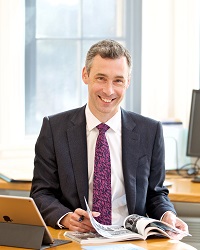 Dr Justin Garrick
Head of School
"I support the CGS Foundation because I am passionate about our School and its capacity to change lives. I know first-hand the transformative power of a scholarship in opening access to a world-class education.  I want to give that kind of experience to others in return; and I want them to use it to change the world!"  - Dr Justin Garrick, Head of School