Transforming the School
Those who visit our beautiful campus know the impact of generosity to the CGS Foundation over decades.  You can see it in the quality of our newest Primary and Senior teaching spaces, and in our new and renovated boarding accommodation.
The School now fields some of the finest sporting facilities in Canberra, including our superb new CGS Rowing Centre, the new CGS Netball and Tennis Courts, our new Weights Room and, of course, our spectacular ovals.
Together, they ensure that our students learn and grow inspired in an environment of excellence, with the highest aspirations to match the quality of their experiences.
We also see the power of philanthropy transforming the future of our School as our magnificent new Music Department, Learning Centre and Auditorium rise at the front of the Quadrangle.
Thanks to the extraordinary gift of Mr Terry Snow (CGS 1961), the largest personal endowment to a school in Australian history, our new complex will benefit thousands of students for generations.  It will also give the community of Canberra an outstanding new facility for musical performance and education.
Giving to CGS Music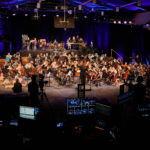 We warmly invite interest in named endowments to our new Music Department, with its four large state-of-the art classrooms, and its 18 superb instrumental and vocal tuition rooms that will place CGS Music at the very forefront of the School.
Built adjoining the magnificent new auditorium funded by Mr Terry Snow, the new CGS Music Department will be funded by the School, but every contribution to its construction through the CGS Foundation Building Fund will release the School's capacity to do more for the education of our students.
Click here to donate in support of CGS Music Rooms
For more information on supporting CGS Music or other aspects of the CGS Campus Development Plan, please contact the CGS Foundation on foundation@cgs.act.edu.au or +61 (0)2 6260 9700.
"The School is important to me as an Old Boy, and it is a Canberra Institution, for all Canberrans. I believe this contribution of mine will put the School in a wonderful place to be a leader in Australian Independent Education. … My contribution will get things started, but others will need to come on board as well." - Mr Terry Snow AM, Class of 61