History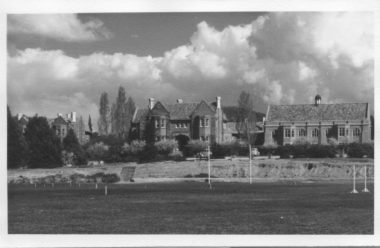 The original Canberra Grammar School Foundation was launched in 1979 and soon supported construction of the Senior School Science facilities, which opened in 1983. Thereafter, the Foundation's capital campaigns made major contributions to maintaining and developing the facilities of the School throughout the 1980s and 1990s.
Projects supported by the Foundation in this era included conversion of the former Library to the CGS Gallery, improvements to the Boarding Houses, refurbishment of the Art, Design and Technology Centre, landscaping around the Resource Centre, and the renovation of the War Memorial Hall and Dining Hall. The Foundation also supported extension of the Music Department, construction of the International Centre and the PDHPE Centre, and installation of the Peace Window in the CGS Chapel.
Campaigns by the first Foundation also saw the establishment of numerous scholarships and bursaries, notably the Paul McKeown Scholarship, recognising the enormous contribution to the School of its longest-serving Headmaster. In 2003, the original Foundation's funds were transferred to the School's investment portfolio and the School took over the funding of scholarships, backed by its investments.
In 2013, the new CGS Foundation was launched to provide an active and forward-looking vehicle for community engagement and philanthropy.
It incorporated the funds of the original Foundation and its spirit was ignited by the extraordinary gift of $8 million by former CGS student, Mr Terry Snow, one of the largest single donations to any School in Australian history, for the creation of The Snow Centre for Education in the Asian Century.
Since its re-inception, the CGS Foundation has become the repository of the School Renewal Charge, paid by all families on acceptance of enrolment to the School, and it has grown through annual giving campaigns, through the campaign for endowment of the Robert Poate Scholarship for Leadership,
and through the exceptional deed of gift of more than half a million dollars by the outgoing CGS Old Boys' Association for creation of the Old Boys' Association Scholarship.