Giving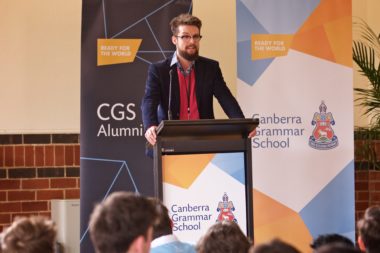 Make the world of difference, give to the CGS Foundation
Thank you for considering a gift to the CGS Foundation. All donations are used towards projects that directly benefit CGS students.
All donations over $2 to the CGS Foundation are tax-deductible. There are a number of ways that you can choose to support Canberra Grammar School.
At Canberra Grammar School we have world-class aspirations. We seek nothing less than to give our students the best possible opportunities and resources, to equip them in knowledge and skill, confidence and compassion to be ready for the future; ready for the world.
You can help the School by giving through:
Scholarships Campaign – Providing World-Class Opportunities
Canberra Grammar School is proud to offer one of the strongest and most diverse scholarship programmes of any school in the ACT. Our wide range of scholarships attract students of exceptional talent to the School and make its world-class opportunities accessible to many for whom they might otherwise be out of reach.
Find out how you can help provide world-class opportunities…
Campus Development Campaign – Building a World-Class School
At Canberra Grammar School, we are blessed with a large and beautiful campus and some of the finest heritage and modern buildings for education in Australia; but ensuring that our grounds and facilities remain state-of-the-art is forever a challenge.
Find out how you can help build a world-class School…
Special Initiatives Campaign – Supporting World-Class Experiences
The CGS Foundation provides a means of giving in varied ways that enhance the quality and experience of curricular and co-curricular life at the School.
Find out more how you can help support world-class experiences…
Bequests – Creating an enduring legacy
A bequest to Canberra Grammar School is truly the gift of a lifetime. In providing for CGS in your will, you are honouring an enduring legacy of philanthropy and making a deeply significant contribution towards securing the successful future of the School.
Find out more about how you can leave an enduring legacy…
Membership – Join the CGS Foundation
Every donor to CGS becomes a valued member of the CGS Giving Club, with additional membership tiers also available. The generosity of our members can truly define the future of CGS.
Find out more about becoming a member of the CGS Foundation…
You can find out about how you can transform a student's life by viewing our 'Creating a World-Class School' booklet.